The Benifits of Chainlink Fences

The many beneficial qualities of chain link fences make them attractive for many different fencing needs. When you have business-related needs, chain link is:
Economical

Durable and long-lasting

Low maintenance

Available in many different heights, gauges, colors, and coatings, chain link fences can be coated in metallic or vinyl/polymer. Metallic-coated fences can be purchased/specified in galvanized, aluminized, Galfan, and Galvinal coatings, while the vinyl/polymer coatings can be green, brown, or black.
Key Variables. These are the Key Variables to ensure your Chain Link Fence meets your commercial fence needs (in order of importance)
Diameter and Wall Thickness of Galvanized Pipe

Gauge of Wire (the thicker the wire, the lower the gauge number)

Size of Mesh (aka Diamond). The smaller the mesh, the more secure the fence is.
Galvanized Round Pipe Framework is chosen according to the application. See the chart below for the proper dimensions for your project:
Gauge of Wire
At Cn-Gabion, we offer a wide variety of chain link gauges to meet any needs you may have. We carry:
11.5 Gauge (Temporary construction fencing),
11 Gauge (Light Commercial)
9 Gauge (Commercial)
6 Gauge (Heavy Industrial)
We provide all of our chain link fences in different heights, colors, and coatings and will recommend the specification right for your project.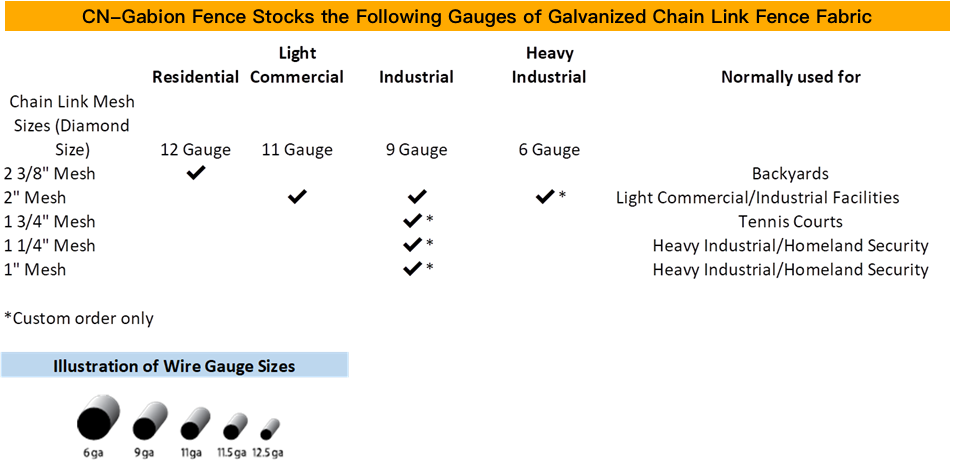 Lastly, Cn-Gabion Fence will ensure that we spec the right diamond size and selvage for your project. Generally speaking, the smaller the diamond, the stronger the fence.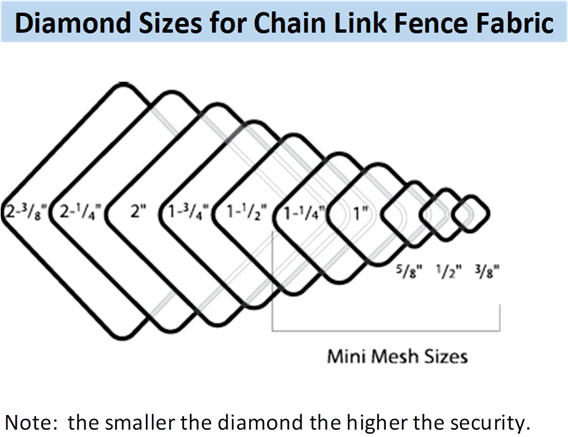 Typical Specifications
You can trust Cn-Gabion to ensure that your fence isn't over spec'd or under spec'd. If a fence contractor only focus on price, please make sure you understand what he/she is specifiying.
Here are some common specifications:
LIGHT COMMERCIAL SPECIFICATIONS
Tubing: Normally .080" to .095" (Schedule 20 Tubing/BSS) Wall Thickness
Line Posts: 2 3/8" Diameter x .095" Wall Thickness
Terminals/Gate Posts/Corner Posts: 2 7/8" Diameter x .095" Wall Thickness
Top Rail: 1 5/8" Diameter x .080" Wall Thickness
Chain Link Fence: Normally 11 Gauge Wire and 2" Diamond size
The most common way that this spec is altered is by substituting residential products.
INDUSTRIAL SPECIFICATIONS
Tubing: Normally Schedule 40 Wall Thickness for all Framework
Line Posts: 2 3/8" Diameter
Terminals/Gate Posts/Corner Posts: 2 7/8" Diameter
Top Rail: 1 5/8" Diameter
Chain Link Fence: Normally 9 Gauge Wire and 2" Diamond size
Frequent Roll Sizes
Diamond Piches




Chainlink Fence Fitting List and Assembly Procedures









Chainlink Fence Applications



Ap